How to balance the work to do with the work of improvement
Shutting down a country due to coronavirus seemed unthinkable three months back. When China sealed off Wuhan and the surrounding areas in Hubei province, Western commentators considered this a draconian measure. Then six weeks later, Italy went on a full shutdown, soon followed by other countries in Europe, Canada, the US and elsewhere.

Singapore had been an outlier. While countries declared lockdowns, Singapore was wide open with malls, restaurants, and entertainment venues abuzz with people. Then on April 3rd, Singapore declared a lockdown till May 4th in what Prime Minister Lee Hsien Loong called a "circuit breaker".

I was in Singapore for most of March. While news of COVID-19 was hard to escape, life seemed normal. Parks were teeming with people, malls had plenty of shoppers, and restaurants were busy. Then as the number of cases zoomed upwards, restrictions were added. Travel into Singapore for short term visitors was banned. The day I left, bars and entertainment venues were ordered closed.

It is no great surprise that Singapore went on full lockdown. Pausing all social gathering for a month to stop further spread of the virus makes sense. With more and more cases cropping up where contact tracing could not be established, it was a necessity given that carriers are asymptomatic for several days. With the circuit breaker in place, the theory is that the virus has nowhere to go.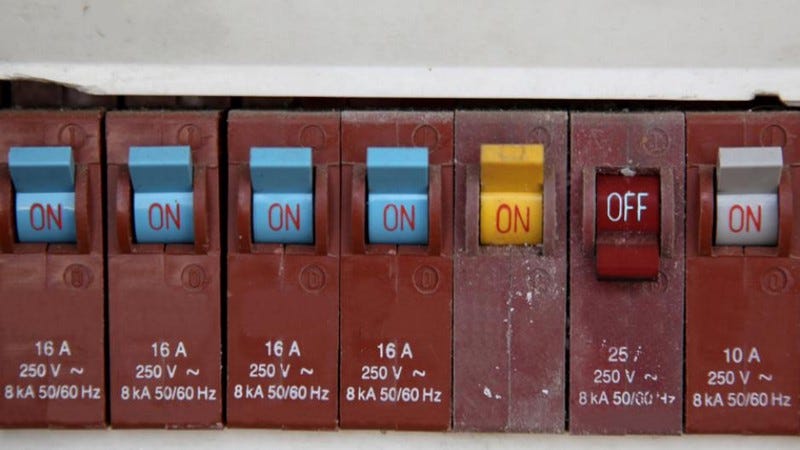 During the lockdowns, organizations have had to go into full remote mode. This has led to a huge surge of usage in remote work tools of which Zoom has been the biggest beneficiary. Zoom's active user base increased from 10 million to 200 million in three months. Then as concerns of security lapses and "Zoombombing" started to build over social media, Eric Yuan, CEO of Zoom, declared a 90 day feature freeze to resolve safety and privacy issues that users had exposed.

Last week I mentioned The Unicorn Project, which was a follow up to Gene Kim's The Phoenix Project. The story is of a fictional retailer that experiences the pain of evolving from a tech laggard to an ecommerce leader. The key turning point in the first book unfolds when Bill Palmer, VP of IT Operations and Parts Unlimited CEO Steve Masters come to a make or break bargain. If IT does not straighten up its mess in 90 days, Steve will outsource the entire department.

Given the chaos and siloed nature of IT in Parts Unlimited, ninety days was not much time. The biggest limiting factor was sorting out Work in Progress (WIP). It was clear that new work requests coming into IT were overwhelming the ability to IT to clean up its processes. So as part of the deal, Bill was able to secure a 30 day freeze on new business requests.

While instituting a "circuit breaker" across a company may appear extreme, it's not uncommon. Many tech giants have been doing this for years. Jeff Bezos sent a memo in 2004 declaring everything they would do would be served through API's, stopping all new feature work. After the infamous Nimda and CodeRed worms hit Microsoft servers in 2001, Bill Gates declared if developers had to prioritize adding a feature or resolving a security flaw, they must choose security first.

These actions are more than just resolving technical debt. There are always compromises involved in delivering software in order to meet deadlines under existing constraints. There is nothing inherently wrong with technical debt when it is managed.

What Amazon, Microsoft, and others realized was that the problem was bigger than technical debt. Their business progress and results were being impeded by complexity debt. This is when implementing change becomes exceedingly painful to nearly impossible due to the burden of inflexible processes or organizational structure. In essence, the way of doing work is no longer supporting the goals of the business.

Part of that complexity involves what falls into the WIP bucket. One of the ideas mentioned in The Unicorn Project is Core versus Context. Core defines things that differentiate the business in the eyes of customers. Context is everything else that is not delivering value to customers.

This distinction is important because complexity debt grows because of the buildup of context in most enterprises. This leads to an underinvestment in core capabilities. In the '90's and '00's, this thinking led enterprises to outsource IT and engineering work. Outsourcers could manage IT work more efficiently and at less cost than any enterprise, at least that was the thinking at the time.

With the era of digital transformation, the perception of IT quickly changed. Technology was now core. However, technology was also more complex, with growing adoption of cloud computing, AI/ML applications, data science, and DevOps practices. Melding this into an environment with existing legacy systems and application monoliths has posed massive challenges.

Most digital transformation initiatives have to date more resembled weird science experiments than real opportunities for change. Much of this is due to the overwhelming amount of context embedded deeply in organizations, creating complexity debt. That being said, the biggest reason for the limited success in transformation initiatives is lack of a pressing business imperative to force organizational change. The past decade has been business as usual.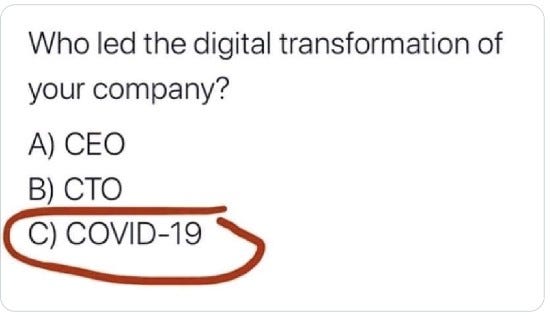 Now a forcing function outside of our control has come and pushed the need for change. I saw one person on LinkedIn getting attention for his complaint about having to visit a bank branch in person to complete a transaction during the country-wide lockdown. Many enterprises are struggling to adapt to a world where face-to-face transactions are not an option and there are viable alternatives emerging from startups and technology giants.

The Marketoonist in a recent post shared a quote from Sandy Shen of Gartner on how COVID-19 has changed the digital game:
"This is a wake-up call for organizations that have placed too much focus on daily operational needs at the expense of investing in digital business and long-term resilience."
In other words, the business as usual (BAU) work is stealing the investment in time and resources from innovation and change. When it comes to the daily operational needs cited by Sandy, a good percentage of those needs are swept up in context compounded by complexity debt.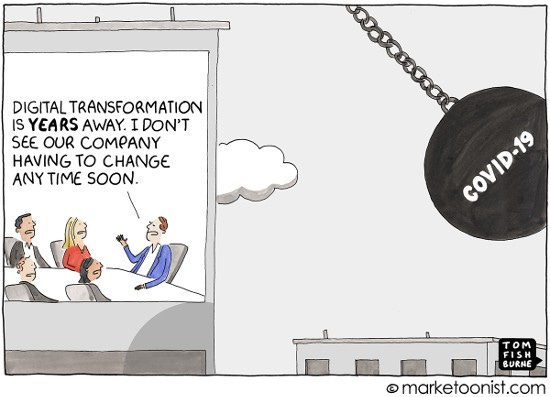 How then to unwind the complexity debt plaguing organizations? There are four things that can be considered:
Dedicated Work Improvement Time — Portion a percentage of time into every product cycle and project that is focused on improving how you are doing work. For engineering teams, this could be rewriting code, re-factoring, re-architecting platforms, and automation. For product leaders, this might be removing collaboration and communication obstacles, reengineering processes, creating documentation, and building cross-organizational relationships.

Build Work Improvement Culture — Having dedicated time helps but creating a broader agenda of improving daily work as an important value in the organization helps to prevent backsliding. Hackathons, workshops, and other interactive events can be used to publicize and socialize that work improvement is an important aspect of regular work.

Shift Context to Outsourced Models — Finding time to dedicate to work improvement is difficult if much of BAU work is on non-core business. If a unit or function does not add strategic customer value or competitive differentiation, then it is potentially a candidate for an outsourcing partner, particularly highly automated or low rate of change functions.

Foster a Culture of Blamelessness — Suggesting improvements can be viewed as an attack on the team or person that owns the particular thing to be improved. This can lead to political in-fighting and retribution. Leaders need to ensure that organizational improvement and alignment of vision are viewed as core values and that is both necessary and a positive consequence. For those that are affected directly by change, leaders also need to build in opportunities to enable staff to evolve with the change.
The battle to slay complexity is one that will never end. As businesses scale, expand, and optimize, complexity is inevitable. However, recognizing complexity and having the will to tackle the beast will eventually lead to the type of breakthroughs that foster greater innovation, agility, and collaboration.

What has your company's response been to COVID-19? How are you using this time to optimize and improve engineering capabilities, platforms & processes on your team?

Episode #5 — Getting the developer experience right with Stephen Dewer
The Heretechs
Episode #5 - How to get the developer experience right Co-hosts Justin Arbuckle and Mark Birch welcome guest Stephen…heretechs.io
Revisiting past episodes before starting on our next podcast episodes, this one is with Stephen Dewar to discuss what developer experience really means.
Check out past Heretechs podcast episodes on Apple Podcasts, Google Podcast, or wherever you listen to your favorite podcasts. Please like and subscribe 😁
We help IT leaders in enterprises solve the cultural challenges involved in digital transformation and move towards a community based culture that delivers innovation and customer value faster. Learn more about our work here.